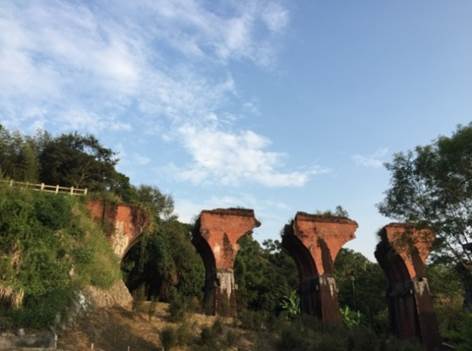 Release date :2018/03/06 17:54
Hakka Romantic Avanue
Author
Hakka Affairs Council
Content
Hakka Romantic Avanue

1. 李騰芳古宅 Old Residence of Li Teng-fang
Completed in 1864, this house was the home of a well-to-do family of Daxi surnamed Li. It is now a national historic site open to the public. The Li family were Hakkas who migrated from Zhao'an in Fujian Province. After making their fortune in business, the family built the house in typical Zhao'an style. The building is ornate, elegant, and has a distinctive layout and decorations; it is also well preserved. It is worth a visit to learn about old houses and see how people lived long ago.




2. 大溪老街 Daxi Old Street
Daxi's river transport once thrived; boats were able to sail all the way from Taipei to the town. As a result, not only did traders of camphor, tea, and other products gather here, quite a few foreign trading companies set up shop as well, and Daxi prospered for a time. After 1910, as local roads were widened, business owners spent a large amount of money building new premises and a street with a mix of Baroque and southern Fujian building styles developed. However, as the river silted up, Daxi's economy faded. Luckily, with the rise of the fashion for nostalgia, Daxi Old Street, still retaining some of the splendor of its heyday, has today become a popular destination and attracts a large number of visitors.



3.竹東市場 Zhudong Market
Open almost 60 years, this is a traditional market that is beloved by locals; it is also the largest Hakka market in Taiwan. The morning market has around 480 stalls. Offering a taste of Hakka customs and practices, a wide variety of traditional Hakka foods can also be enjoyed here.



4.北埔老街 Beipu Old Street
Beipu is a Hakka township in the west of Hsinchu County. Many buildings from the Qing dynasty and Japanese colonial era remain around the town's Old Street. Completed in 1835, Chin Kuang Fu House was the home to the office in charge of administering the "Chin Kuang Fu" development fund and symbolized the cooperation in the area between migrants from Guangdong and Fujian in the Beipu area at the time. Beipu Citian Temple was completed in 1846 and is the local belief center. Zhongshu Hall was completed in 1922; it was built by Ceng Cheng-tong, the first scholar from Beipu to pass the imperial examinations in the Qing dynasty.
The Jiang family made a fortune during the early settlement process and left many old houses in the area of the Old Street. One example is Tianshui Tang, known as the "Jiang House," where Jiang descendants still live today. Jiang Ah Hsin Residence is a Baroque-style Western building completed in 1949. The owner, Jiang Ah Hsin, was a rich Beipu black-tea merchant. Jiang Family Ancestral Temple, built in 1924, is one of the four main ancestral temples of Taiwan.




5.三義木雕博物館 Sanyi Wood Sculpture Museum
Established in April, 1995, this is the only public museum with a wood sculpture theme in Taiwan; it was opened to preserve and promote Sanyi's wood carving art. The museum has exhibition halls dedicated to the origin of wood carving art, its history in Sanyi, wooden furniture and deity statues etc.; wood carving art exhibitions are regularly held. Entering the museum and appreciating the works of the sculptures is like being connected to the trees of the forest, returning to the embrace of nature.



6.龍騰斷橋 Longteng Bridge
This bridge, constructed in 1905, is also known as "Yutengping Broken Bridge". It was built using a traditional construction method with a combination of red bricks and granite rock ensuring balance and providing protection against earthquake tremors. The bridge, however, could not withstand the forces of the Shinchiku-Taichu Earthquake in 1935 and was destroyed. Today, the piers and arches of the bridge remain standing attracting many visitors. Though the bridge cannot be seen in its former glory the ruin, surrounded by verdant hills, is a very popular landmark and tourist spot.



7.東豐綠廊 Dongfeng Bicycle Green Way
Dongfeng Bicycle Green Way was Taiwan's first bike path to be established along a disused railway line. Around 12.4 km long, the tree-shaded bike path is a beautiful "green tunnel" that connects Shigang Dam, Shigang Station ("Zero Egg Platform"), Meizi Bridge, and other attractions. The two bike paths are connected and are around 18 km long in all, stretching from Houli via Fengyuan to Dongshi District.



8.石岡土牛客家文化館 Shigang Tuniu Hakka Cultural Hall
This hall is housed in the rebuilt Liu family cluster house (compound), a type of building unique to the area. Today, its displays focus on the appearance of old-time Hakka houses and it exhibits various precious folk custom cultural relics. The annual grand Liu clan sacrificial ceremony, open to the public, allows visitors to gain an understanding of Hakka culture and witness how the people lived in the past.