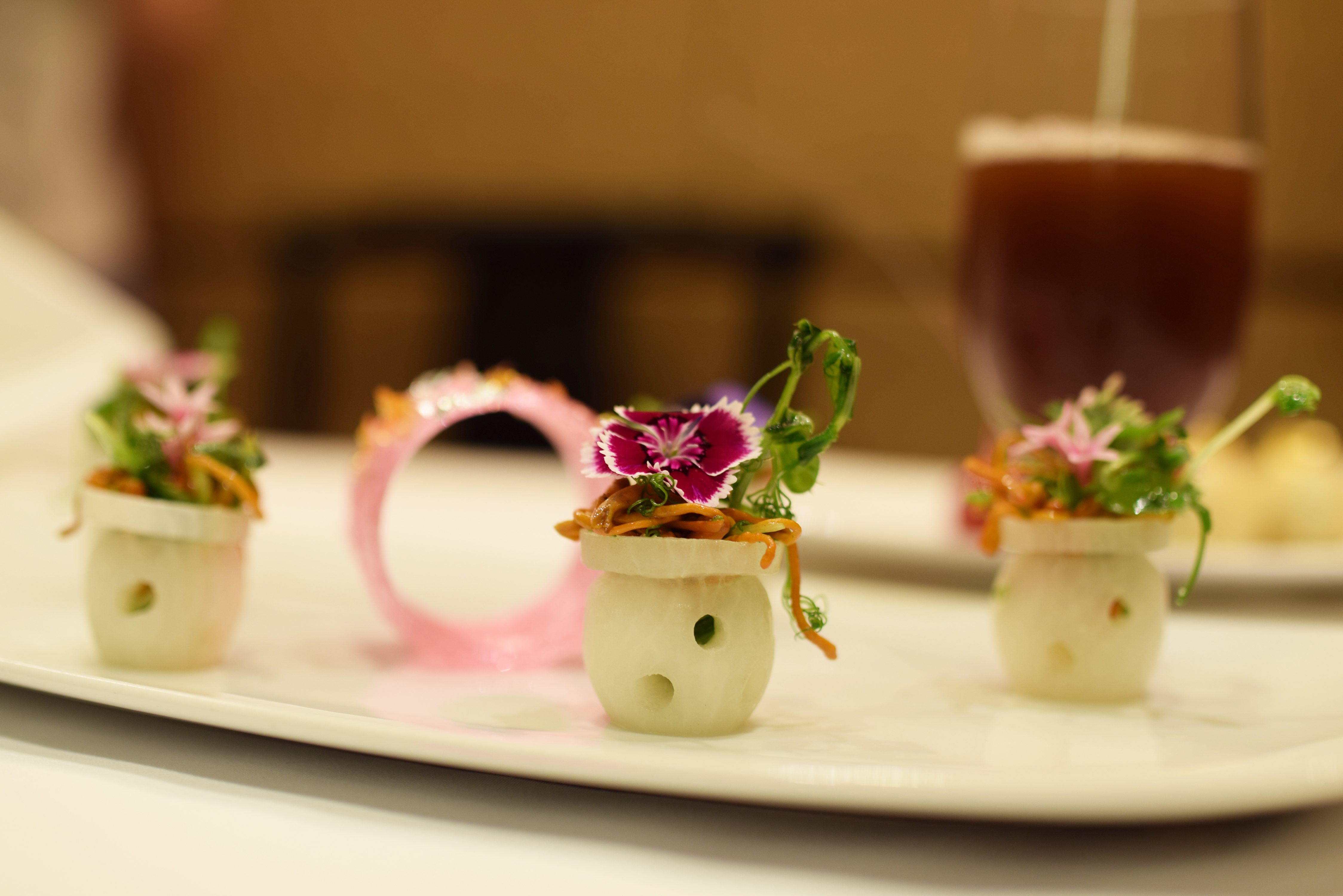 Release date :2017/06/26 12:18
Eat like a Chinese emperor in Taipei
Summary
One of the most unique aspects of imperial cuisine is the elaborate presentation, which sets it apart from other Chinese culinary traditions. Indeed, aficionados of Chinese cuisine can affirm that plating in most Chinese restaurants is decidedly anodyne. The emphasis is on the flavors of the food...
Content
Eat like a Chinese emperor in Taipei

Authentic northern Chinese cuisine is rare in Taiwan. Historically, immigrants to the island have been from southern China. Northern restaurateurs who did come here after the Kuomintang's defeat in the Chinese Civil War have largely passed on.




There are only a handful of northern dishes commonly found in Taiwan. There are regional variations of northern dumplings and a few noodle dishes, scallion pancakes, Beijing hot pot made with Chinese sauerkraut, and the ubiquitous Beijing duck.

Yet northern Chinese cuisine is much richer than that. It combines dishes from Beijing, Inner Mongolia, Shaanxi Province, Northwest China, Manchuria in China's northeast and coastal Shandong Province.




Imperial cuisine is considered part of the northern Chinese culinary tradition because of its association with China's historical dynasties, based in Beijing from the early 15th century until the fall of the Qing dynasty in 1911. However, imperial cuisine combines dishes that draw on all eight of China's great regional cuisines: Anhui (Hui), Cantonese (Yue), Fujian (Min), Hunan (Xiang), Jiangsu (Su), Shandong (Lu), Sichuan (Chuan), and Zhejiang (Zhe) cuisines.

In Taiwan, the Westin Taipei's Yi Yuan is the only restaurant that serves a broad array of both typical northern Chinese dishes and imperial cuisine. In recent years, the restaurant has expanded its menu of imperial dishes and experimented with the recipes. "We have a strong respect for the traditions behind these dishes, but we like to put a contemporary spin on them," says head chef Andy Lee. "The results tend to be very good, and it's important we distinguish ourselves."


Eating like a king

One of the most unique aspects of imperial cuisine is the elaborate presentation, which sets it apart from other Chinese culinary traditions. Indeed, aficionados of Chinese cuisine can affirm that plating in most Chinese restaurants is decidedly anodyne. The emphasis is on the flavors of the food.

But imperial cuisine must both look and taste splendid, Lee observes. "Historically, it was important that the dishes were visually stunning to please the emperor and imperial family," he says. For that reason, the imperial kitchen employed dedicated vegetable and fruit carvers. Yi Yuan does too: A typical vegetable carving for a dish takes 2 1/2 hours, Lee says. "It really takes time because the carving must be intricate," he explains.




"100 birds paying homage to the phoenix" is one of Yi Yuan's signature imperial dishes. A feast for the eyes and palate, the dish is made of stir-fried boneless chicken with scallop and pigeon eggs in a spicy crab roe seafood sauce. A large phoenix (a mythological bird traditionally representing the empress in Chinese culture) carved from carrot stands in the center of plate, presiding over elegantly arranged poultry, seafood and vegetables. The phoenix itself is edible, but it is primarily there for aesthetic reasons.

The dish originated during the late Qing dynasty (1644-1911) as part of a grand banquet for the Empress Dowager Cixi's birthday. The empress's head chef drew inspiration for the dish from a legend said to have occurred during the reign of the Qing emperor Qianlong (1735-1796). The story is as follows: To celebrate his mother's 60th birthday, Qianlong organized a splendid banquet. During the banquet, rare birds flew from all directions and gathered to sing in unison to the banquet guests. It was as if they were paying respect to the empress.




Another stand-out imperial dish at Yi Yuan is Braised deer sinew with boneless free-range chicken, a personal favorite of Emperor Yongzheng (1723-1735). Prior to taking the throne as Qing emperor, Yongzheng led large-scale seasonal hunts for wild game in northeastern China. Believing that males should be brave, strong and pursue a masculine form of diet, he ordered his cooks to stew chickens and deer killed during the hunt with Chinese cabbage and wild Chinese wolfberries, and then shared the dish with his subordinates.

A unique element of imperial cuisine is that many of the dishes are healthy, Lee observes. For those of us accustomed to grand Chinese dinners, that seems counterintuitive. After all, at the typical Chinese banquet, the ratio of meat to vegetable dishes is usually 5:1. The sauces are rich too, with liberal use of salt, sugar and oil.




"Modern Chinese banquet food rarely is the type of thing you would order a la carte in a restaurant," says Aaron Turner, a Taipei-based wine importer who has attended more than 200 banquets for work reasons. "It's quite heavy. That's probably why drinking becomes the focus of the banquet."

But the primary purpose of imperial cuisine "was to ensure the good health of the emperor, so the cooking team paid very careful attention to the ingredients and preparation," Lee says.

In Qianlong's case, the emperor's preference for beancurd, eggplant and other vegetables and the fact that he lived to be 88 at a time when the average life expectancy in China was 35 may have helped convince people that following his dietary habits could promote longevity.


Setting the bar high

In addition to its imperial cuisine Yi Yuan has an extensive selection of dishes from throughout northern China. The most famous of these is its Beijing duck, which is superior to many preparations of the dish you can find in the Chinese capital. The skin of the duck is normally quite greasy, but at Yi Yuan, it is roasted to perfection, so that just enough oil remains to keep it moist. Wrapped in a thick sesame pancake - an Yi Yuan twist on the traditional paper thin pancake - with a scallion, sliced cucumber and the restaurant's homemade sauce, the skin alone is a savory treat. Even better is to add a slice or two of the tender duck meat.




Corey Cooper, a Hong Kong-based editor and former resident of both Taipei and Beijing, says his dining experience at Yi Yuan has often exceeded that at Northern Chinese restaurants in the Chinese capital. As Cooper lived in Taipei before Beijing, Yi Yuan "served as an introduction for me to Beijing-style food. After I lived in Beijing for several years, I realized it set the bar too high. The food at Yi Yuan was more refined."




Aaron Turner agrees that Yi Yuan sets the bar high. He first ate at the restaurant for a Christmas dinner in 2005. At the time, he had a poor impression of Beijing restaurants because of a disappointing meal at an establishment near National Taiwan Normal University. At that restaurant, the food was crudely prepared. Even worse, the waiter insisted that Turner and his friends order Gong Bao Chicken (a Sichuan dish) and fried rice (a common dish in southern China) - assuming they were ignorant of less renowned Northern Chinese dishes.

In contrast, at Yi Yuan, Turner found the food to be "delicious" and the setting "charming." "I appreciated how the setting was evocative of an imperial Chinese court," he says. "It's perfect for a special occasion."




Returning a decade later for a business dinner, Turner found the food was still excellent. He also gives the restaurant high marks for the English proficiency of its staff. "When you have an important dinner with international guests, you hope that the restaurant staff can communicate with them smoothly, and English is really the best choice," he says. "Of course, someone can always translate, but then your guests feel a bit isolated." At Yi Yuan, Turner's guests "felt very comfortable," he adds.




Looking ahead, Lee says that Yi Yuan will continue to reinvigorate ancient Chinese recipes with modern flair. "There are thousands of imperial recipes, so we have quite a lot of material to work with," he says. "Obviously, certain favorites like Beijing duck will always be on the menu, but we do like to change up some of the other dishes. We want our guests to be able to experience as broad selection as possible of the best imperial and traditional northern Chinese cuisine."